about shaw farm
Shaw Farm's Mission:
We guarantee that every product bearing the Shaw Farm Dairy label, will be of freshest, highest quality available for your family. How can we be so confident? We have been producing exceptional products to families in the Merrimack Valley for over 100 years! And, while many small dairies have gone out of business and given way for new housing developments, Shaw Farm continues to grow by adapting to the changing needs of our customers and the environment. After four generations, we have mastered the science that goes into our local dairy products. Through hard work and the efforts of a great group of dedicated people, we will strive to bring you products that you can serve your family with confidence.
How can we guarantee you will have the absolute highest quality dairy products on your family's table?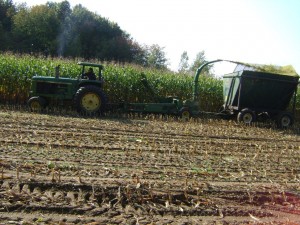 It all starts by making sure our cows receive only the best feeds available. We consider this a top priority, so we grow them all ourselves, locally. Even though most years it would be less expensive for us to purchase our feed, this would place the 1st step to the process outside of our control. Our 150 acres of land is farmed to grow high quality grasses to feed our cows, and in the summer months, to pasture them. We then team up with another local farm, Wilsons Farm, to farm 80 acres of their land to grow the high quality corn silage (mmmm… one of the ladies' favorites). As any farmer or gardener knows, the most important step in growing any crop is to start with fertile ground. We accomplish this by using the commodity the cows give us, manure. The next most important step is to plant, and then finally harvest when the crops are at their peak nutrient content. The final step of harvesting crops is reserved strictly for family members–Warren and Mark Shaw. Once the crops are properly harvested, they are handled in a controlled manner. This important step is managed solely by our herdsman. A nutritionist is consulted to ensure the nutritional requirements of the animals are met every day; every morsel our cows eat is a part of a perfectly balanced diet.
Wally Beidron is our herdsman extraordinaire! He is the 3rd generation from his family to make a career at the farm, and has worked here since the age of 8 years old. He cares for our cows like they are his own children. Wally is also responsible for breeding the cows which is vital to their milk output. Each cow must give birth every year. He oversees the delivery of their calves, starting the life cycle with these young animals all over again. As you can imagine, this is a very difficult job with long hours, but relief can be found in a hot cup of coffee delivered to the crew by Wally's wife Peggy, who stops by to offer help whenever she can!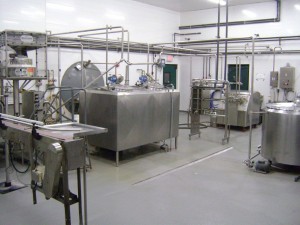 Next step, the bottling plant located onsite at Shaw Farm. This process is managed by Jim Sheridan who started his career at Shaw Farm at the age of 12 years old. Jim was mentored by Walter Biedron Sr., and took over the reins as bottling plant manager when Walter retired after 50+ years on the farm. Jim oversees the milk as it enters the building every morning in it's raw milk form, and stays with it every step of the way until it is purchased by our customers. His most important duty is sanitization. He takes pride in his plant, and is retrained every year by Alpha Chemicals, the company that handles all of our sanitization needs.
The milk then embarks on one of three journeys, 1) passed through the bottling plant doorway to the shelf of our retail store (now that's fresh!) for our loyal customers to take home and enjoy, 2) loaded onto one of our trucks to travel down the road to the other local farm stands, or 3) home delivered to customers doorsteps. Although this may appear to be an easy step, it is very important for product quality that the milk is handled at proper temperature, so once again, we do not use outside sources to handle our product. On any given day, Bill Lannon our home delivery truck driver can be seen chatting it up with customers, like they're old friends. On the wholesale side, Sarah Shaw Pratt's husband Robert Pratt handles all of our wholesale delivery business making sure they are satisfied, and product is handled flawlessly.
Folks, the next time you dunk your cookie in a cold, refreshing glass of our delicious, nutritious milk, you will know EXACTLY where it came from.
What about the ice cream?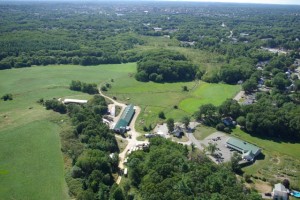 Our homemade ice cream is produced at the same location…at the farm! Mark Shaw takes special pride in overseeing this department at the farm, but could not do it without his team consisting of lifelong neighbor employees Tim Savage and Jake Allan. The team takes painstaking care to produce the creamiest, richest ice cream around! Once again, as with all of our products, it arrives on the shelf in our retail store mere hours after packaging. Lyndie (Shaw) Zolkos, along with many of our neighbors working at the farm, shuffle the 75+ flavors of ice cream to the store and ice cream stand with passion and purpose. Lyndie manages not only our retail farm store, but our ice cream stand, as well as the farm events and birthday party celebrations! On weekends, she can be found at the farm store being assisted by her three children, and her husband Jay. Jay and Lyndie also own and operate ML Shaws Country Kitchen in Dracut, a cozy spot for a delicious breakfast or lunch 7 Days a week.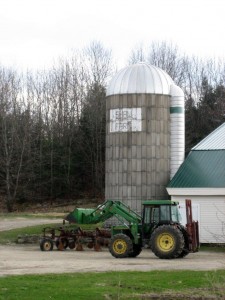 We have a dedicated team, we take enormous pride in what we do, and we're here to serve the needs of our customers 365 days a year! We hope you have an opportunity to visit the farm, and if so, we encourage you to 'ask the farmers' any questions you have!
Special acknowledgement to Nancy Shaw, Susan Shaw, Ruth Shaw, Linda Shaw, Sarah Shaw, Faith Shaw, and who have contributed to the continuation of our mission over the years.
Thank you for supporting our century old family dairy farm. We encourage and appreciate feedback. Please feel free to contact us at:
Warren Shaw –
[email protected]
Lyndie (Shaw) Zolkos –
[email protected]
Mark Shaw –
[email protected]